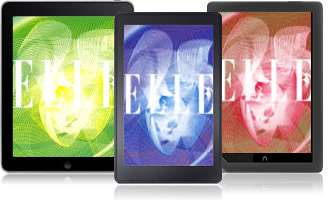 ELLE is available on all leading table devices.
iPAD SPECIFIC CONTENT AND FUNCTIONALITY
ELLE's iPad application provides a new level of reader engagement by taking advantage of the platform's high-resolution screen, touch navigation, mobility, and connectivity.


The iPad will serve as an interactive platform, designed to extend and enhance the issue's content, with dynamic elements such as:


ELLE Personal Stylist: Allows users to be their own stylist by creating outfits using all the clothing and accessories from the issue.
ELLE Inspiration Board: Enables users to create their own personally curated collections of items that inspire them on inspiration boards that can then be shared with friends via Facebook, Twitter, and Email.
ELLE Clutch: Engages sharing technology all in one place— automatically linking a user's favorite content to friends via Facebook, Twitter, and Email.
ELLE Extra: Rich behind-the-scenes photo galleries and video content not available anywhere else.
E-Commerce: Tap-to-buy functionality takes users directly to a brand's e-commerce site or to a partner retailer.
ADVERTISER OPPORTUNITY
ELLE offers print advertisers the option to be included in the corresponding month's iPad edition free of charge. All links that appear on print ads will be live. Additional interactive enhancements are also available (hot spots, tappable content, video, slideshows, etc.); costs apply.
PDF: 2013 Elle Enhanced Opt-In Form
PDF: 2013 Elle Non-Print Opt-In Form
PDF: 2013 Elle Static Opt-In Form