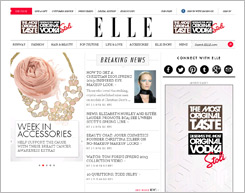 BRAND
Under the halo of the ELLE brand, ELLE.com is the insider's style guide with a global outlook, delivering fashion, beauty, style, service, and shopping in an accessible and attainable format. While maintaining the brand's sophisticated tone, ELLE.com presents a behind-the-scenes, how-to world. ELLE.com is the point at which aspiration and acquisition intersect.

CONTENT
ELLE.com is a destination site offering exclusive and original content created by a fully integrated editorial team with time-tested authority & perspective.

AUDIENCE
The ELLE.com Network delivers over 3 million engaged users with an ideal style mindset to move your market.

INNOVATION & INTEGRATION
The ELLE brand has a rich history of being first-to-market in responding to consumer, economic and industry shifts. These assets, platforms, and extensions are aimed at serving marketing partners in richer, more impactful ways.