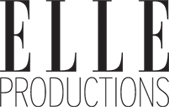 A Full-Service Marketing Partner
Strategy
Our integrated marketing campaigns are hand-tailored to meet the needs of discerning clients. ELLE Productions utilizes all departments of ELLE to map strategies for meeting your objective.
Content
At ELLE it is our responsibility to ensure that content is king—for both ourselves and our clients and in every medium imaginable.
Creative
We call upon the biggest talent in the industry to create stylish, groundbreaking advertising, award-winning custom publishing, next generation digital marketing and high-impact marketing programs.
Digital
Our agile, ever-evolving digital capabilities engage your desired demographics with targeted e-blasts, custom microsites and DVD series, user-generated content, and original video.
Events
Intimate or grand, ELLE Productions puts the stylish ELLE stamp on every event, scouting the hottest venues and most in-demand decor trends to ensure your brand integration makes maximum impact.